recipe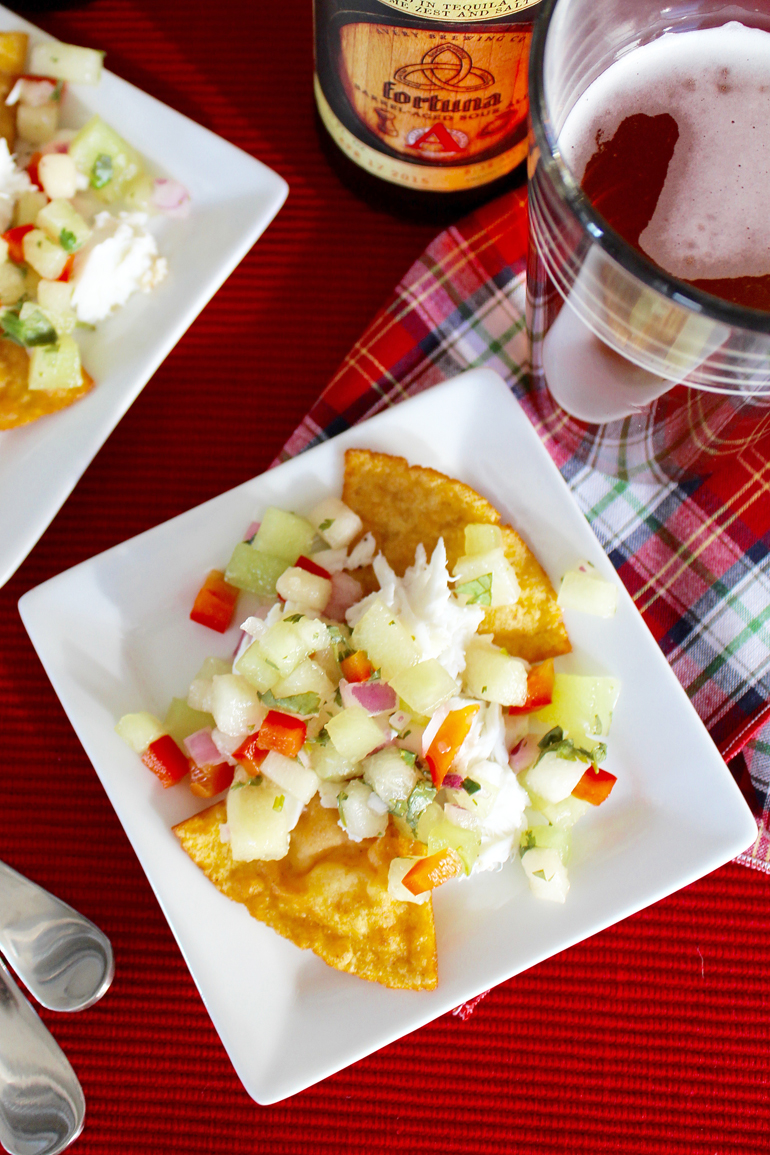 Halibut Tostadas with Melon Salsa
Recipe by Chef Erin Coopey
Makes 24 appetizers or 4 full-sized portions
1/2 honeydew melon, peeled and finely diced
1/2 cup minced red onion, rinsed and drained
1 cup minced red bell pepper
1/2 cup chopped fresh cilantro
3 tablespoons fresh lime juice
1 tablespoon rice vinegar
2 tablespoons lime zest, for garnish
1 tablespoon lime oil (Recipe available in Infusing Flavors)
2 6 to 8-ounce halibut, cod or rockfish filets, skin removed
Sea salt and pepper, to taste
4 thin corn tortillas, each 6 inches in diameter
In a medium mixing bowl, stir together the honeydew, red onion, red bell pepper and cilantro. Stir in the lime juice, rice wine vinegar and 1 teaspoon sea salt. For best flavor refrigerate for at least 4 hours before serving.
To make appetizer-sized tostadas, stack the tortillas in 2 equal piles. Cut each pile into 6 pie-shaped wedges, or small circles. Note: If you decide to cut small circles, you may need additional tortillas to make 24. If you are making full-sized tostadas, simply leave the tortillas whole.
Add oil to a deep fryer or heavy fry pan to a depth of at least 1 inch and heat to 375°F. (That's just a touch above medium heat.) Add the tortilla pieces a few at a time and fry, tossing them, until golden brown. Be careful not to let them darken or they will taste bitter. Lift out and drain on paper towels. Sprinkle with sea salt while still hot.
Season the fish filets generously with salt and pepper. Heat lime olive oil in a large sauté pan over medium-high heat.
Add the filets and sear until the fish is pale gold, about 3 to 5 minutes. Turn the filets over and cook until the flesh is opaque on the outside but still slightly translucent in the center, about 3 to 4 minutes or more, depending on the thickness of the filets. Cover loosely with aluminum foil to keep warm. When you are ready to serve, cut the filets cross-wise into thin slices. Top each crisp tostada with some fish, melon salsa and sprinkle with lime zest.
Erin's Tip: Rinsing minced or chopped onions under cool running water for a couple minutes makes them more palatable when served raw.
Recipe excerpted from Infusing Flavors (Cool Springs Press 2016).