single malt opportunity
Adopt a Private Cask of Canadian Single Malt
Odd Society Spirits' Second Annual Cask Sale is Here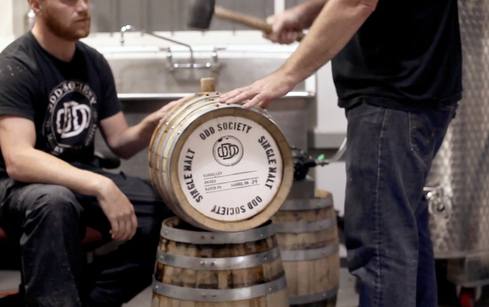 Vancouver B.C., January 14, 2015
— Odd Society Spirits prepares to barrel their second annual batch of single malt and are thrilled to offer the public the opportunity to purchase a private 30 litre cask of their very own. This Canadian Single Malt is made from 100% B.C. malted barley fermented and distilled onsite.
The demand in 2014 for their first release was so high, they created a wait list for 2015. With only thirty casks available and a long list of potential owners, eager buyers are encouraged to place their orders immediately. This exclusive offer ends on February 9, 2015 and casks are priced at $1500 plus bottling fee.
"Rob Scope [bar manager at The Cascade Room] and I purchased a cask with a group of friends last year," says Quentina Siah, local food and spirits aficionado. "The anticipation to take our whisky home is like an extended Christmas Eve — we can't wait ."
All casks purchased are
stored at Odd Society Spirits for 3 years
under the expert supervision of distillers Gordon Glanz and Joshua Beach. During this time, proud cask
owners can follow the aging process
at a visitation and tasting event once a year.
Canadian liquor regulations require that the cask's contents age for a minimum of three years before it can be called a "whisky".
Once the aging process is complete, the spirit will officially be called a Single Malt Whisky and be bottled onsite Odd Society Spirits.
See how their single malt is made in

this video

produced by Odette.
The Odd Society Spirits Limited Cask Offer Includes:
30 litres of Odd Society Single Malt

barrelled at approximately 62% ABV (After three years of aging each cask will yield approximately 45-750ml bottles).

Storage for three years

while the spirit matures in once-used American White Oak Casks onsite at the Odd Society Spirits Distillery

Bonding and Insurance

for three years

Visitation and tasting event

at the Odd Society distillery once a year
Odd Society Spirits Limited Cask Offer Details:
Price: $1500
(includes tax)
Payment is required at the time of ordering

Bottling costs are $250 at the time of bottling

The empty cask cask can be purchased for an additional $125 after bottling