looking for a brunch spot?
Campagnolo to Launch Weekend Brunch 'Upstairs'
'Upstairs' at Campagnolo Starts Weekend Brunch Service on September 13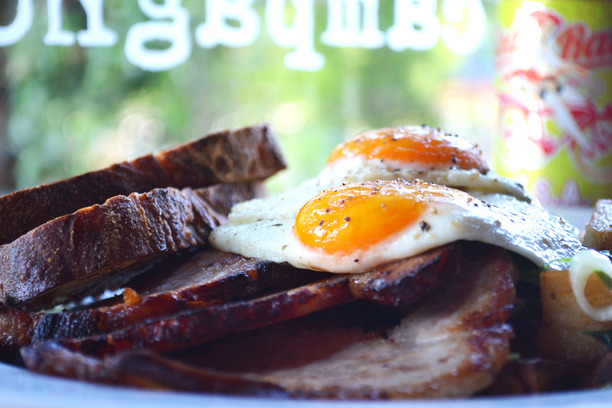 Vancouver B.C., September 8, 2014 — 'Upstairs' at Campagnolo, a late night oasis for cocktail aficionados, is setting their alarm clock early in order to open on weekend mornings for brunch. Starting Saturday, September 13 brunch will be served on weekends and holidays from 10:30AM until 2:00PM.
Chef Nathan Lowey of the award-winning Campagnolo Restaurant, first expanded his menu to coincide with the opening of the bar located above Campagnolo,

appropriately referred to as 'Upstairs',

in February of 2014. Upstairs does not adhere to the strict dedication to Italian cuisine as Campagnolo but does honour the same ideology that respects British Columbia's bounty and the culinary skill required to make the most of it all year round. "Our brunch menu offers the style of brunch I like to eat," says Lowey. "I want quality ingredients prepared with love by professional chefs, but I don't want to feel like I have to get dressed to the nines to enjoy it."
Lowey's brunch menu boasts hearty comfort foods with an emphasis on fresh baked pastries and bread, house made sausage and bacon, and locally sourced seasonal ingredients. A sampling of the many brunch dishes on offer include dangerously addictive sticky buns, fresh made brioche and honey butter, heirloom tomato salad, free range fried chicken and biscuits, baked eggs with pimento cheese and basil, house smoked wild BC salmon Benedict, blueberry flapjacks, and the infamous 'Dirty Burger'.
The brunch beverage list created by Barman Peter Van de Reep, showcases simple yet thoughtfully created cocktails, local craft beer, fresh squeezed juices, fruit smoothies, plus cold pressed and drip

49th Parallel

Ethiopia Chelelektu

coffee.
The door to Upstairs is located to the right of Campagnolo's front entrance at 1020 Main St. and will officially open for the first time during the light of day this coming Saturday.