beer-pairing dinner
From Harvest to Hearth, Quinto Quarto Returns to ROMA
Campagnolo ROMA to Host Fall Themed Nose-to-Tail Dinner on October 14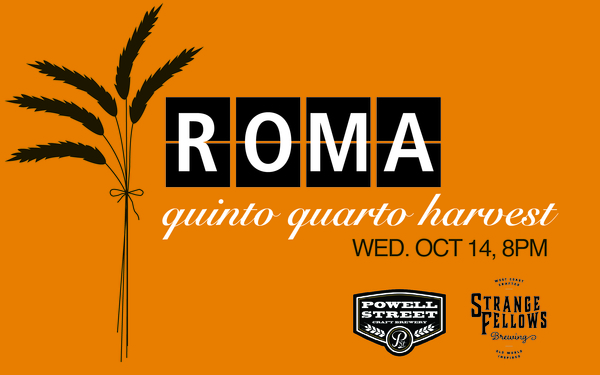 Vancouver B.C., October 1, 2015
- Campagnolo Roma is set to host a memorable Quinto Quarto dinner honouring the whole animal as well as British Columbia's exceptional autumn bounty on Wednesday, October 14. Quinto Quarto is held at Campagnolo's East Hastings location only a few times per year in recognition of the important Roman culinary tradition of nose-to-tail cooking. This particular dinner will celebrate fall's harvest, combining unique cuts of meat known as the fifth quarter (quinto quarto) with seasonal produce sourced directly from the farm, and paired with beer from

Powell St.

and

Strange Fellows

breweries. Tickets for Quinto Quarto Harvest are $78 and can be purchased at

quintoquartoharvest.eventbrite.ca

.
Quinto Quarto Harvest Menu
*
Cured and Smoked Fraser Valley Lamb Belly in Brioche
Roasted Blue Foot Chicken Wings with Mayonnaise
crispy pig's ear, citrus, pig brain vinaigrette
Slow Cooked & Grilled Pork Tongue
traditional balsamic vinegar
warm fingerling potatoes, vinegared ink sauce
red sea urchin, cured egg yolk, chives
Chilliwack sweet corn polenta, turkey egg
Pork Cotechino & Liver Sausage
cauliflower, brown butter, pickled raisin salsa verde
Stuffed Beef Heart 'Bollito Misto'
veal brain, autumn vegetables
Wild B.C. Mushrooms & Pig Trotter Croquette
Coronation Grape Sorbetto
*This menu is subject to change due to seasonality and availability of ingredients.
Quinto Quarto: Harvest Details
$78 (includes gratuity, dinner and beer) + Eventbrite service charge and tax.